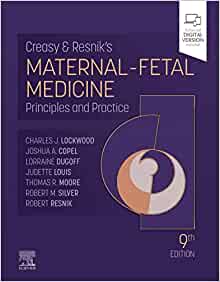 Charles J. Lockwood MD MHCM Senior
The definitive reference in the field for more than 35 years, Creasy and Resnik's Maternal-Fetal Medicine provides today's MFM practitioners with authoritative, comprehensive guidance on every aspect of this fast-changing field. The fully revised 9th Edition brings you up to date with the latest evidence-based guidelines and research as well as the fundamental scientific foundation needed for effective practice, helping you minimize complications and ensure the best possible outcomes for your patients. Renowned experts in obstetrics, gynecology, and perinatology provide valuable information in every area of complex obstetric care, highlighting the most commonly encountered anomalies and providing clear guidelines for obstetric and neonatal management.
Offers comprehensive updates on rapidly changing topics, including extensively revised genetic content throughout. 

Includes two new chapters: maternal and fetal viral infections, including COVID-19; and sexually transmitted disease, covering the epidemiology, pathogenesis, diagnosis, and treatment of individual infectious diseases that may complicate pregnancy. 

Contains user-friendly features such as numerous diagnostic and treatment algorithms for quick access to current protocols; key points at the end of each chapter; and counseling pearls with practical guidance on patient consultation. 

Features a comprehensive imaging section, including a video library to aid in everyday diagnosis. 

Shares the expertise of a renowned editorial team―including new co-editors Drs. Lorraine Dugoff and Judette M. Louis―who lead authors representing top institutions from around the globe. 

Enhanced eBook version included with purchase. Your enhanced eBook allows you to access all of the text, figures, and references from the book on a variety of devices. 
Download