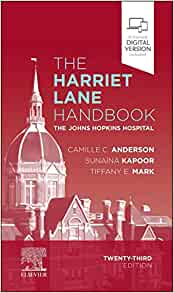 Johns Hopkins Hospital
Your #1 source of pediatric point-of-care clinical information.
Every three years, The Harriet Lane Handbook is carefully updated by residents, edited by chief residents, and reviewed by expert faculty at The Johns Hopkins Hospital. Easy to use, concise, and complete, this essential manual keeps you current with new guidelines, practice parameters, pharmacology, and more. The 23rd Edition of this portable reference continues to be the most widely used and most recognized pediatric reference worldwide―an indispensable resource for pediatric residents, students, nurses, and all healthcare professionals who treat young patients. 
Trusted for 70 years for fast, accurate information on pediatric diagnosis and treatment. 

New audio case files: Listen to residents and faculty at The Johns Hopkins Hospital discuss case studies and healthcare disparities based on topics from this bestselling book. 

The popular and comprehensive Pediatric Drug Formulary, updated by Carlton K. K. Lee, PharmD, MPH, provides the latest in pharmacologic treatment of pediatric patients. 

Outline format ensures you'll find information quickly and easily, even in the most demanding circumstances. 

An eBook version is included with purchase. The eBook allows you to access all of the text, figures and references, with the ability to search, customize your content, make notes and highlights, and have content read aloud. 
Download