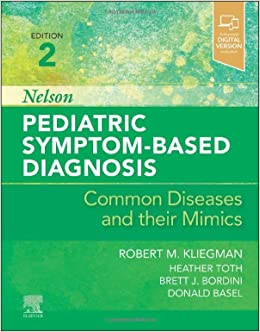 Robert M. Kliegman MD
Patients don't present with a disease; they present with symptoms.
  Using a practical, symptom-based organization, 
Nelson Pediatric Symptom-Based Diagnosis: Common Diseases and their Mimics, 2nd Edition
, offers 
authoritative guidance on differential diagnosis and treatment
 of diseases and disorders in children and adolescents, and covers 
the symptoms you're likely to see
 in practice, 
their mimics
, and 
uncommon disorders
. Drs. Robert M. Kliegman, Heather Toth, Brett J. Bordini, and Donald Basel walk you through 
what to consider and how to proceed
 when faced with common symptoms such as cough, fever, headache, autistic-like behaviors, chronic pain, chest pain, gait disturbances, and much more.
Begins with a presenting symptom and leads you through differential diagnosis and a concise review of treatment recommendations. 

Contains more than a dozen new topics including Disease Mimics: An Approach to Undiagnosed Diseases, Autistic-like Behaviors, Shock, Hypertension, Neurocognitive and Developmental Regression, Chronic Pain, Hypertonicity, Movement Disorders, Hypermobility, and more. 

Features a new focus on symptoms of rarer diseases that are mimics of more common diseases. 

Offers a user-friendly approach to Altered Mental Status such as coma and other CNS disorders, with numerous clinically useful tables and figures to guide clinical decision making in various care settings. 

Uses a highly templated format for easy reference and quick answers to clinical questions, with the same consistent presentation in each chapter: History, Physical Examination, Diagnosis (including laboratory tests), Imaging, Diagnosis, and Treatment. 

Includes numerous full-color illustrations, algorithms, tables, and "red flags" to aid differential diagnosis. 

Serves as an ideal companion to Nelson Textbook of Pediatrics, 21st Edition. Content in this book is referenced and linked electronically to the larger text, providing easy access to full background and evidence-based treatment and management content when you own both references. 

Enhanced eBook version included with purchase. Your enhanced eBook allows you to access all of the text, figures, and references from the book on a variety of devices. 
Download