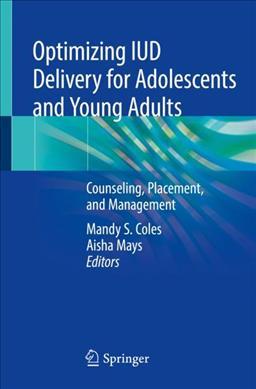 Mandy S. Coles, Aisha Mays
Many individuals worldwide initiate sexual activity during their adolescent and young adult (AYA) years and are in need of safe and effective contraceptive services. Because of their safety profile, ease of use, and privacy many international professional organizations recommend that long-acting reversible contraception (LARC), including intrauterine devices (IUDs), be included in contraception discussions with AYAs. IUDs are particularly advantageous because these methods are safe and highly effective (>99% efficacy), are easier to keep confidential because they are often undetectable to others, and do not require daily adherence or frequent visits for refills. Despite significant evidence of their safety, acceptability, and effectiveness among adolescents and AYAs, IUDs remain underutilized in this population.
Written by experts in the field, Optimizing IUD Delivery for Adolescents and Young Adults provides a comprehensive framework that examines the history of IUDs, counseling, initiation, placement, and follow-up techniques that are unique to AYA populations. The text closes with resource chapters, including, expert clinical pearls for AYA IUD delivery, how to access IUD training, and information on IUD billing and reimbursement. In an effort to integrate the voice of youth, clinical case examples and patient stories are utilized throughout to provide both a clinical grounding for each chapter and context within which to apply the chapter material.

Download